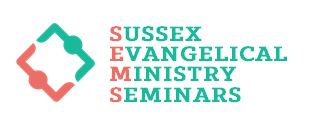 Sussex Evangelical Ministry Seminars (SEMS)
Category:
Blog
,
Events
,
Preaching
,
Sussex Evangelical Ministry Seminars (SEMS)
,
Talks
SEMS are aimed at resourcing church leaders and others who want to see local churches strengthened and encouraged through the preaching and teaching of God's Word.  Each year a range of speakers are invited to address a variety of subjects.  In each programme of meetings we endeavour to provide:
Stimulus to think through important spiritual and theological issues in the light of the Scriptures
Equipping to be accurate in handling the Biblical text
Reminders of vital lessons from church history
Help in thinking through practical issues related to the life of a local church
SEMS enable men and women from across the spectrum of evangelical churches to engage with one another about ministry in a helpful way.  The organisers are committed to what are often called 'Reformation Principles.'
The seminars are organised by five ministers of SGP churches:  David Sprouse, Phil Wells, Marc Lloyd, Graham Nicholls and Jon Hobbs.
PRACTICAL DETAILS
SEMS are held on Monday mornings five times a year at The Tiger, All Saints' Church, Lindfield, RH16 2HS.  There is car parking at the church.
Refreshments are served from 9.30am and the seminars run from 10am to 12.30pm, with a coffee break.  There is an option to stay on for lunch afterwards – bring your own or book a sandwich lunch in advance.
The cost of each seminar is £5.00 but there is a discount for those who pay for the whole academic year in advance of the first seminar (five seminars for the price of four).
Recordings of most SEMS can be found on the SGP website, here.
BOOKING OPTIONS
For further information or printed copies of the brochure, please contact the SEMS Administrator:
Miriam Upton, 2 Tanners Mead, Staplefield, West Sussex, RH17 6EH.
Tel: 01444 400 675.  Email: miriam_upton@hotmail.com
The planning group is chaired by David Sprouse:  01444 473 531 or davidsprouse2@gmail.com