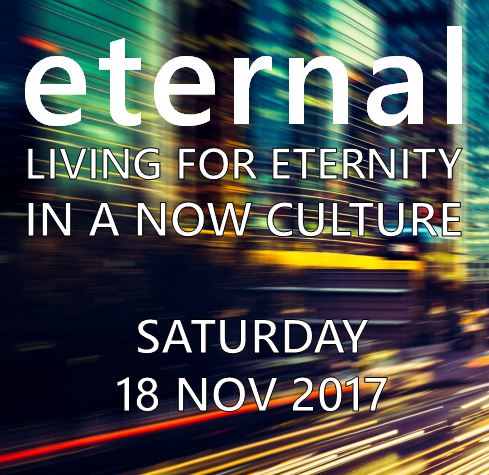 2017 Annual Conference
Category:
Blog
,
Events
ETERNAL – Living for eternity in a now culture
Saturday 18 November 2017, at The King's Centre, Burgess Hill

A day for people of all ages!
Have we taken our eyes off the eternal, even in our churches? It's not surprising if we have. We live in a secular age, in a world with no awareness of anything above or beyond itself. It's a NOW culture. The waiting removed from wanting, entertainment for immediate download, instant messaging, news an hour old is old news, the present imposes itself like never before.
Losing our eternal perspective is disastrous for our Christian lives. It leaves us ill-prepared to live as pilgrims in the present; ill-equipped to handle sorrow and loss, or to resist the temptations and enticements of this world; unready to make costly, sacrificial choices for Christ or to suffer for his name's sake. But the Bible connects us to the eternal God. It extends our horizons to eternity and calls us to fix our eyes on what is unseen – for what is seen is temporary, but what is unseen is eternal.
Join us for a day in God's word, focussing on the unseen, meditating on the eternal, and learning together to be more heavenly-minded so that we can be more earthly good.
Marcus Nodder is our main speaker and you will also be able to attend one of four seminars which will each build on the main talks in a practical way.  Marcus has been the senior minister at St Peter's Barge, London's only floating church, since 2004.
We are also pleased to be able to offer a programme of children's activities and Bible teaching alongisde the adult programme.
The cost is just £12 per adult and £2 per child aged 2.5 to school year 11.  For children under 2.5 a supervised creche will be available during the two morning sessions, free of charge.
Click here to make your booking and download a copy of the flyer.